Rectangle Trampoline Mat - Black Poly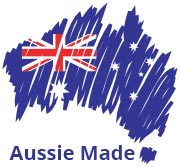 For over 50 years, Topline has been making all sizes of black poly mesh rectangle trampoline mats. Our replacement mats are Australian Made and designed right here in Qld.  You can rest assured that your rectangle trampoline mat will be made with quality and precision. Aussie mats use the wire bar system so if your old mat has the wires inside, you can re-use them. If you are missing some 
buy pack
of 10 as spare parts. Or if your old mat has Chinese
triangle attachments
, it means you need to buy our mat
with a full
set of wires. 
Click here
for measurement instructions, and
contact us
if you need guidance.
T

his table below is sorted by  # of Mat Attachments… up one long side… across one end, so scroll down the Blue column

. 
Springs
not
included, sold in packs of 10 in the
spare parts
section.
Depending on destination please allow 1-2 weeks for your mat to arrive.